Features:
(1) the system adopts electro-mechanical and hydraulic integration, PLC program control, to achieve automatic plate pulling, simple operation, reduce personnel consumption;
(2) the use of automatic plate turning and collecting solution solves the problem of incomplete separation of slag and water, improves product quality and reduces environmental cleaning pressure;
(3) the filter plate is made of imported polymer PE materials and is pressure die-cast for a single molding, with longer service life;
(4) according to the different properties and specific gravity of the materials, the solids content can be increased by 10% compared with the ordinary filter press;
(5) unique 1200mm board design, high output, low energy consumption, stable system operation, safe and reliable.
(6) unique design of roller handle makes operation more labor-saving and convenient, and greatly reduces labor intensity.
(7) high standard production process and technology, real material, to ensure the high quality of each machine, is the understanding of solid-liquid separation equipment.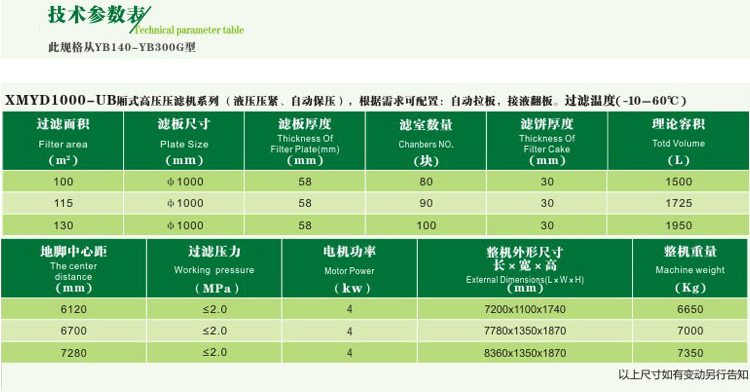 技术要求:
1、止推板支架与油缸座支脚上表面需在同一水平线上;
2、地脚螺拴预埋孔宜采用二次浇灌,压滤机只固定止推板端,以保证在压紧板压紧时使机器能做部分水平位移;
3、用户可根据实际工况由十大担保评级网所提供的设备总装图建造基础;
4、基础载重为压滤机整机重量加滤机整机重量加滤饼重量,由土建工程师设计;
5、压滤机四周应预留1000mm左右操作空间。